Chemical Peels are an effective treatment to correct skin issues such as:
Fine Lines
Uneven Skin Tone
Dark Spots
Wrinkles
Acne
In this post- we will focus on chemical peels for acne scars.
We will look at "What is a chemical peel?"
Benefits of a chemical peel.
Potential side effects.
Preparing for a chemical peel.
At-home treatments vs professional treatments.
What to do after a chemical peel.
And finally, other alternatives to chemical peels.
So without further ado, let's jump in!
(If you are interested in learning more about our chemical peels you can visit our website)
What is a chemical peel?
Chemical peels for acne scars are extremely effective for evening out your skin.
A Chemical peel applies acids with exfoliating properties to the skin (and more typically the face).
The acidic solution will remove oils, debris, dead skin, etc. and reveal the newer and smoother skin underneath.
It is more plainly described as a "controlled injury to surface skin cells."
When the old skin is injured, it will peel off and new skin will replace the old.
The stronger the peel, the deeper it will work (potentially requiring larger downtimes)
Sounds a little scary huh?
It is important to remember that this "injury" is only happening at the micro level.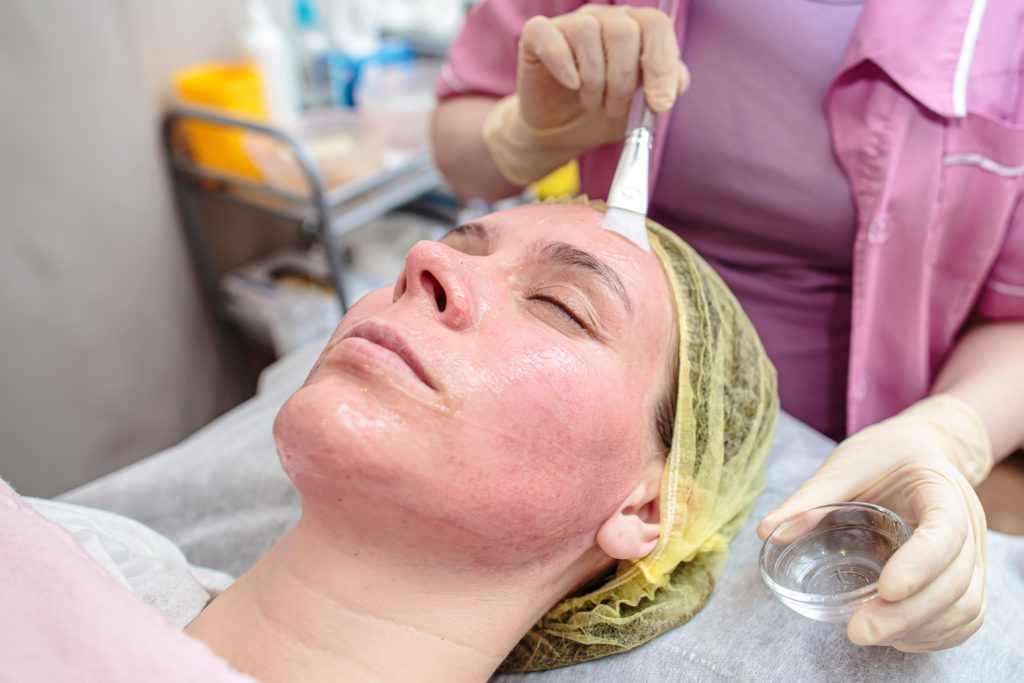 Chemical peels are simply more effective exfoliation techniques- when compared to physical exfoliants such as scrubs.
Additional chemical peels cause the body to produce collagen to fill in pitting caused by acne blemishes.
Dermatologists can determine the best peel for you.
Often starting with the minimally invasive peel and working to stronger peels if needed.
Chemical peels for acne scarring can also be used on your chest and back.
Benefits Of Chemical Peels
Chemical peels have a number of benefits.
If you have acne prone skin- you can see a measurable improvement fairly quickly.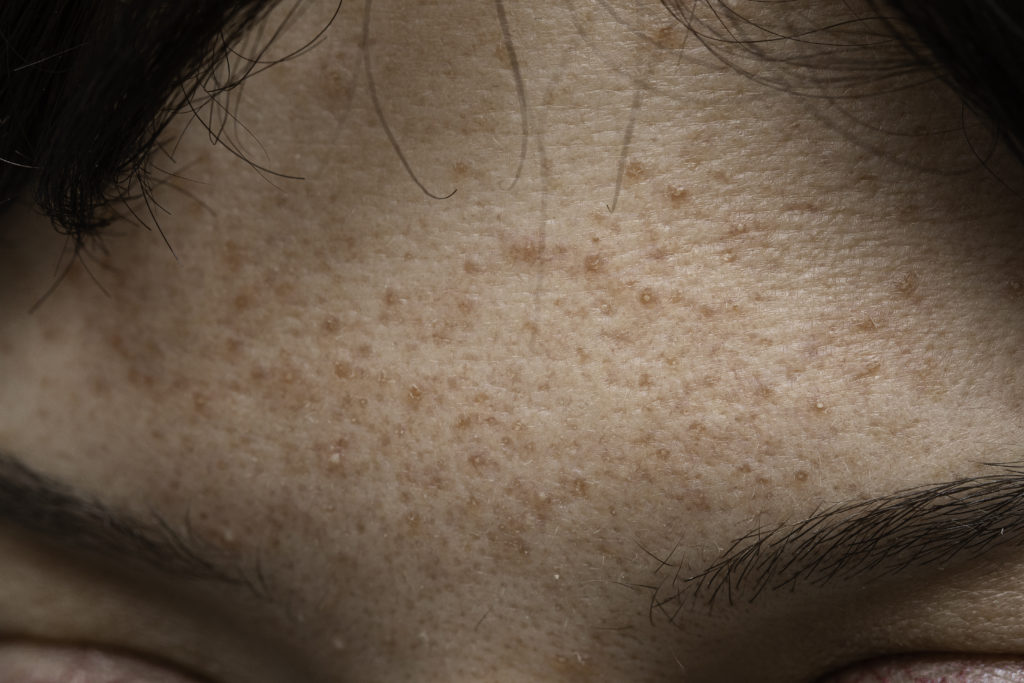 This is especially true in comedonal acne.
This type of acne is often caused by oily skin, and blockage of pores.
Lighter chemical peels can also show significant improvement in shallow "boxcar scars" over time.
For deeper pitting and scarring, you can use a peeling agent longer (4-6 weeks) or look towards a slightly stronger peel.
The abrasion from a stronger peel stimulates collagen production that plumps the skin- removing the thick old outer layer, and helping with wrinkling and scarring.
Overall, a chemical peel has the benefits of removing scarring, smoothen skin, brighten pigment, reduce acne, unclog pores, and even out skin tone.
Potential Side Effects
Chemical Peels (along with many other procedures) can come with some risk.
This risk can be mitigated when performed by a professional.
The potential side effects will also vary from treatment to treatment.
If a chemical peel is performed using the wrong exfoliant or improper procedure you can potentially cause scars.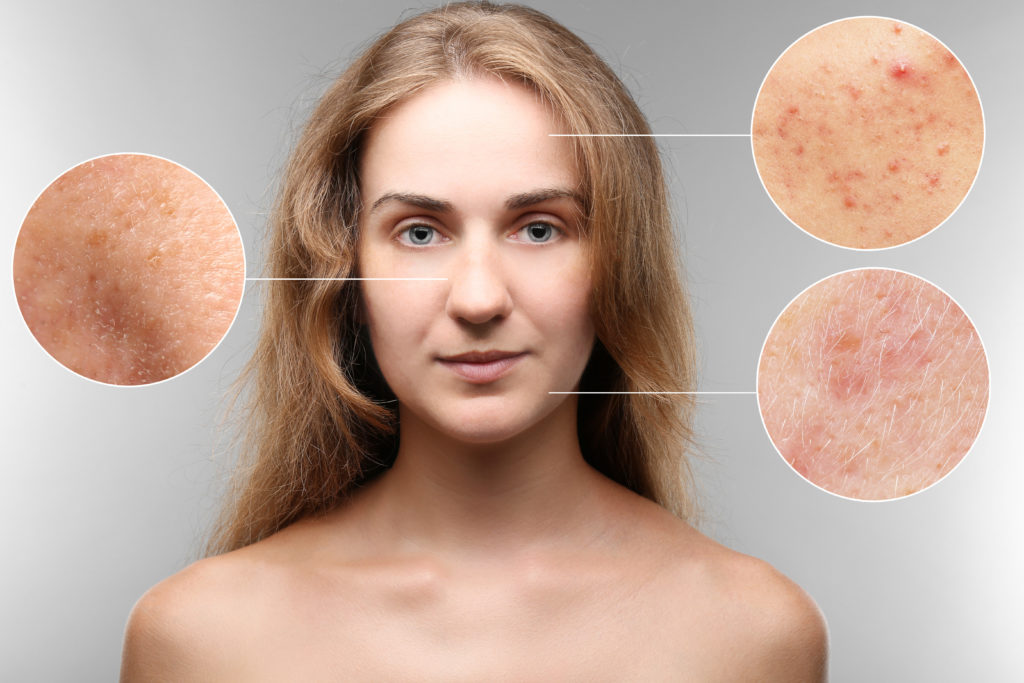 Deeper chemical peels for acne scarring also has the potential to develop infection if not properly cared for.
In some instances (primarily for women who were on birth control pills and became pregnant) temporary change in skin pigmentation occurred.
Many side effects are as a result of lifestyle choices made after the chemical peel.
It is important to remember that sun exposure can be harmful after a peel.
Issues related to sun exposure after a peel is typically related to pigmentation.
Glycolic peels have had some reported complications related to crusting or hyperpigmentation.
With all of this in mind- it is recommended that you work with a professional for your chemical peels.
Especially when focusing on acne scarring because you may have to use deeper exfoliants.
Follow a professionals advice- and you will more than likely have a great experience and outcome.
Preparing For A Chemical Peel
Before a chemical peel procedure- you should have a conversation with your professional.
Expectations, potential risks, and outcomes should all be discussed.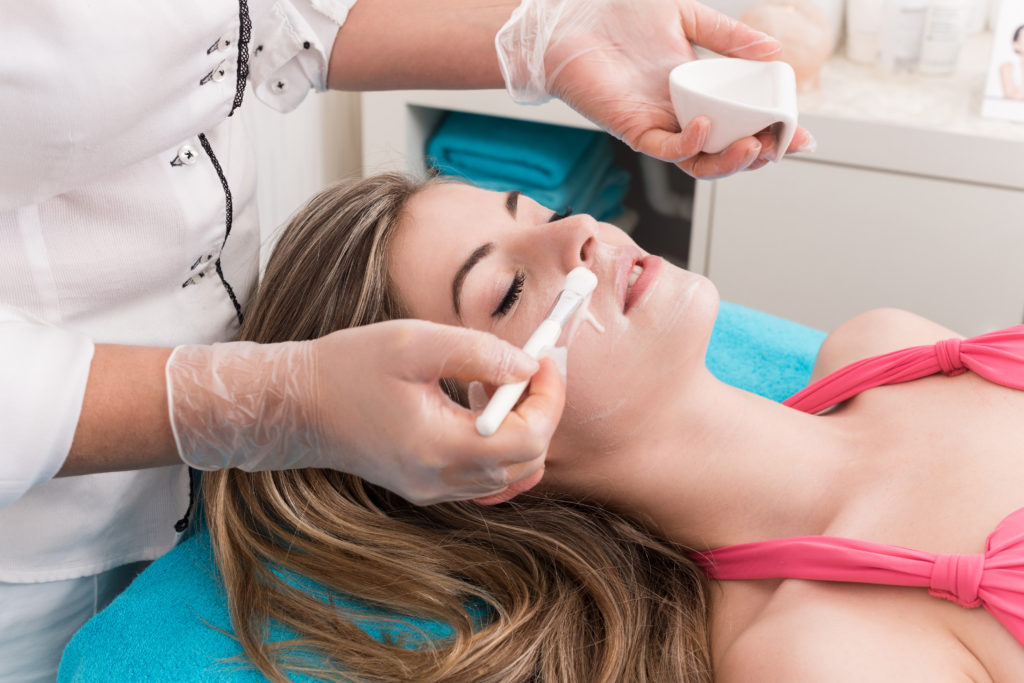 Most of the time, it will be advised that you continue per usual with your typical skincare routine.
Discuss with your professional any skin conditions or treatment goals you have.
Again- For acne scarring, be prepared for a deeper chemical peels.
Do not try something new that may irritate your skin prior to a chemical peel.
It could potentially worsen those symptoms, or inhibit proper recovery.
It is also important that you do not get waxed prior to a peel.
Avoid any medications or supplements that can affect blood clotting 10 days prior to your appointment.
This includes aspiring, ibuprofen, vitamin E, etc..
Make sure to ask your professional about what to do if you are already using acne medication.
In-Home vs. Professional Chemical Peel
Now let's discuss the differences between an in-home peel and going to a professional.
The largest factor in this conversation is going to be cost.
According to data from Healthline:
"The average cost of a chemical peel is $673."
This will obviously depend on the peel you get and the professional you work with.
In-home peels tend to cost anywhere from $30-$150.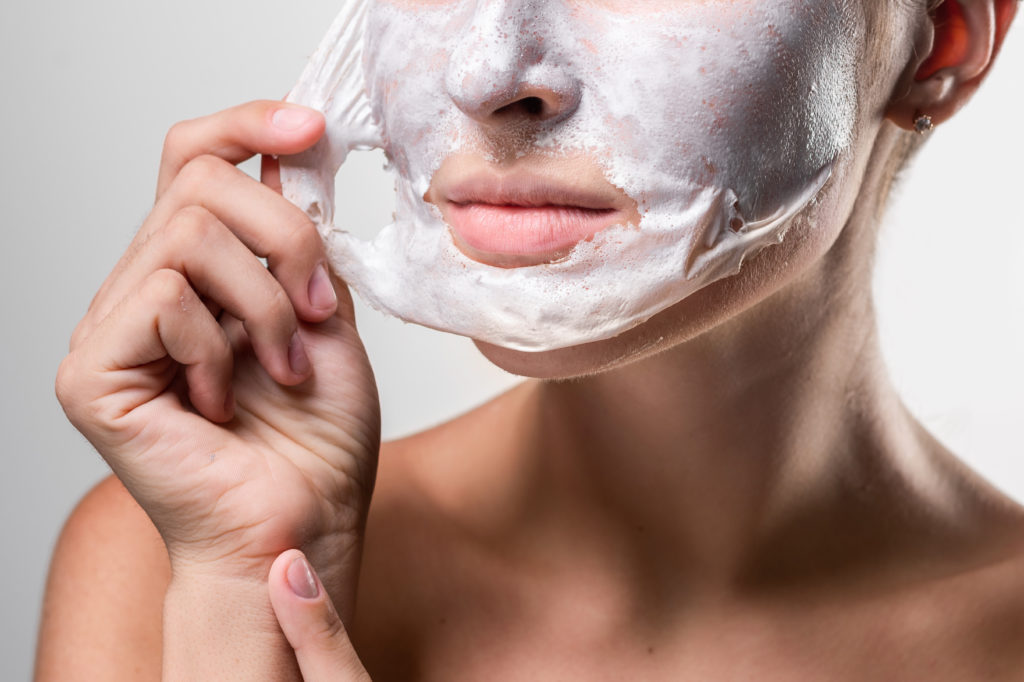 There are 3 main types of peels:
1. Light Peels- These peels use a mild acid and gently exfoliate. Often referred to as AHA and BHA peels. It is designed to penetrate your skin's outermost layer.
2. Medium Peels- These peels use a slightly stronger trichloroacetic acid to reach the middle layer of skin cells. Often referred to as TCA peels.
3. Deep Peels- A deep penetrating acid that gets deep into the skin, removing damaged skin cells. Often referred to as Phenol peels.
Superficial peels may be performed by an esthetician, where deeper peels may require a licensed medical professional.
So for this reason, in-home peels may not be available for the type of peel you may need.
If you decide to do a chemical peel by yourself at home, exercise extreme care.
Follow the directions exactly as stated to avoid causing any damage to your skin.
Try to avoid TCA based peels for in-home use to further avoid any complications.
If you choose an in-home chemical peel for acne scarring- try to start with an AHA first.
In-home treatments will typically only be helpful for light scars.
Make sure to buy your peels from a reputable brand and understand that they may be more expensive.
In general, in-home chemical peels can have there uses.
But in general, it is better to visit a professional when you want a chemical peel for acne scarring.
After Your Chemical Peel
After your chemical peels you can begin to focus on the recovery of your skin.
It is incredibly important to avoid sun exposure as much as possible.
Sun exposure creates a risk of pigmentation problems and can slow the healing process.
If you cannot avoid the sun, it is important to maintain a strong protective layer of sunscreen.
Improper care after a peel can actually lead to scarring.
You can expect skin irritation or redness immediately after your chemical peel.
To what extent, will largely depend on your skin sensitivity and treatment provided.
You will feel some discomfort or tightness in your skin for roughly a week afterwards, and some swelling can be normal.
For Medium and Deep peels- expect blister formation shortly after your procedure.
These blisters will eventually crust and fall away.
Overall, you will experience a reaction similar to what many may compare to sunburn.
Conclusion
The results of your chemical peel in terms of acne scarring will differ from person to person.
This is based on a number of factors such as:
Which treatment was given
What professional level was used
What is the severity of the acne scarring
What your skin tone is
What type of skin you have
What other treatments are also being utilized
However, most clients can expect to see results after healing from the first round.
In some cases 3-4 rounds may be necessary.
These rounds will typically be spaced anywhere from 6-10 weeks apart.
After the process is done- the chemical peel should have removed any tough dead skin, oil, and debris to reveal your clearer, smoother, and newer skin!
If you have tried chemical peels without success (or simply want to explore other options) some alternatives may be things like:
Over-the-counter acne scar treatment
Steroid injections
Laser resurfacing
Dermabrasion
Fillers
If you have not tried a chemical peel for acne scars before- I recommend doing your research and giving it a try- if it is a good fit for you.