"Every man should have a magnifying mirror. If you look good magnified, you are set to go." – Tom Ford. This is the motto for the best skin care routine for men that you will learn about today!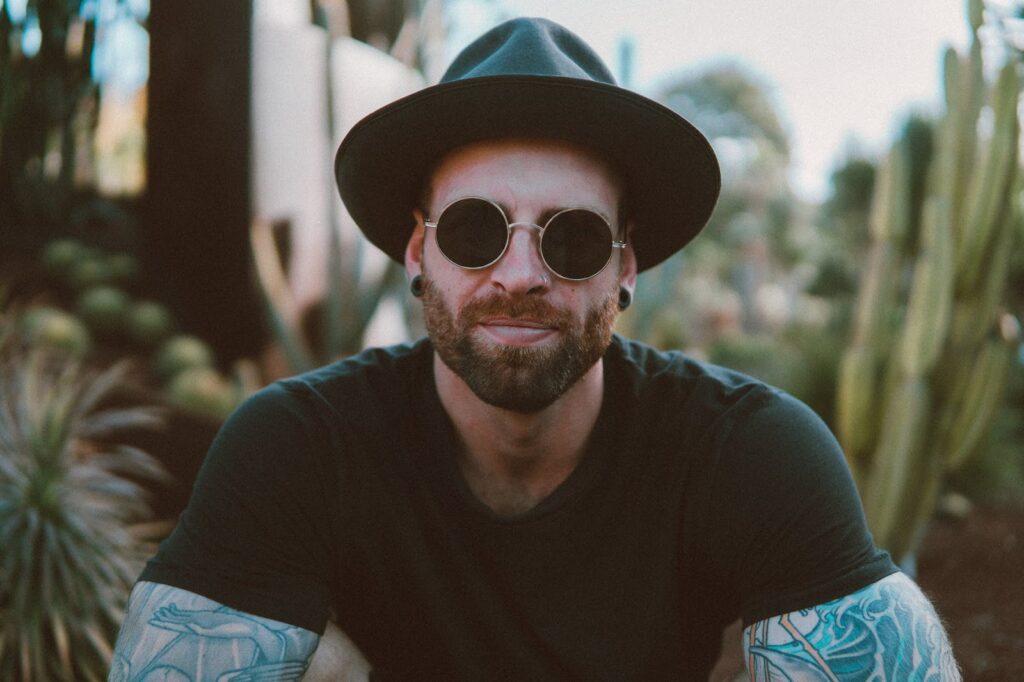 Take a peek in the cabinet of any woman in your life, and you'll likely be shocked by all the beauty products she's collected.
Men everywhere are starting to pay more attention to their grooming. Having great skin is well sought after. If this is the beginning of your journey, don't stress-
You really don't need a complicated lineup of products to have great skin. What's way more important than the price tag is that you're knowledgeable about how the ingredients work.
Read on to learn about the best skin care routine for men.
What is a Skin Care Routine?
Every step in a skin care routine has its place and reason, and once you get the hang of it, it will only take a few minutes of your day.
As someone new to skincare, why you'd want a dollop of Vitamin C or a dropper of acid on your face makes zero sense. What is a ceramide anyway?
A good rule of thumb is to start with the thinnest consistency products and work your way to the thickest, so always apply serums before creams.
To be sure you're reaping the benefits of the best skin care products for men, repeat your routine morning and night for 30 days.
Check out our quick skincare glossary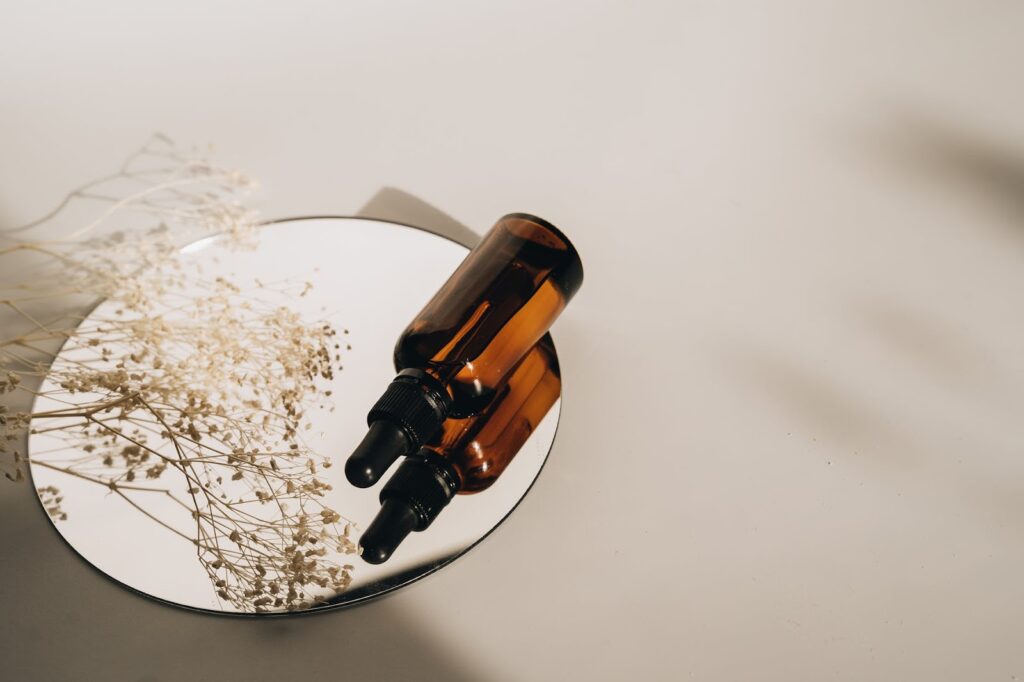 Here's the crucial reason why all men should care about their skin
A well groomed man sends the powerful message that you're comfortable in your own body.
It's ultra attractive to meet a man who puts visible effort into the way he presents to the world.
While many people are blessed with naturally balanced skin, most of us need a little help achieving it.
With bacteria-ridden cell phones, sweat and grime, and too much caffeine or sugar, it can be difficult to pinpoint why your skin isn't happy. Skin problems can be a real hit to your confidence.
All around it's in a man's best interest to do a bit of research into proper grooming.
People will notice and rave about your "glow" – you may even turn into an advice guru among your friends.
Does My Skin Type Impact Any of This?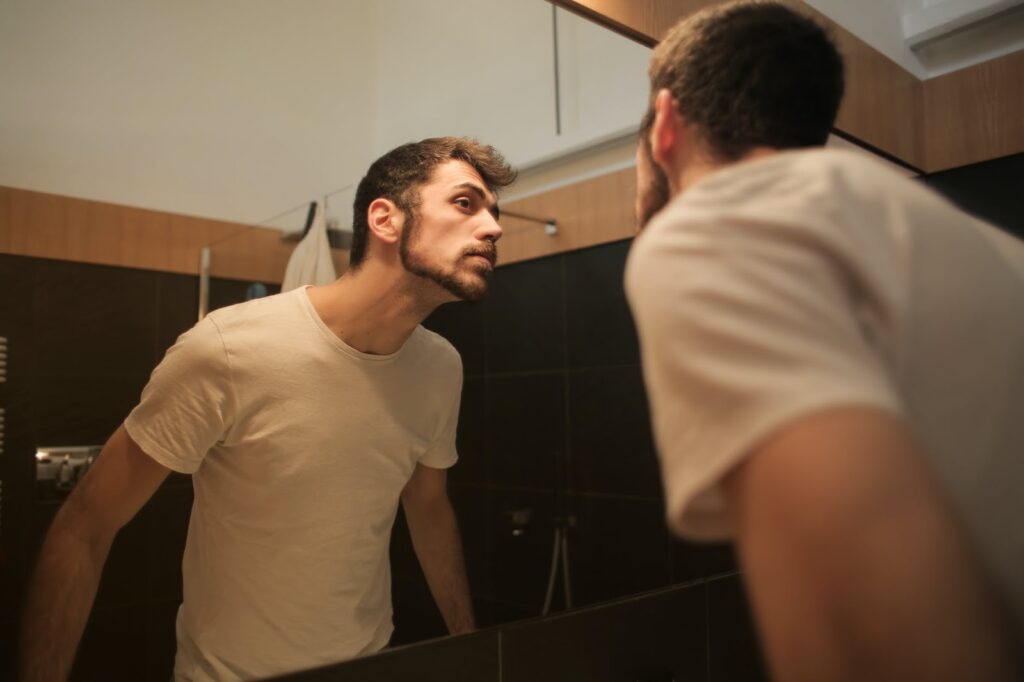 You should begin your journey by considering what skin type you have, which will guide you towards the right products. Traditional skin types you will see are:
Normal
Oily
Sensitive
Dry
Combination
However, we at Lemon & Honey find that people fit into three primary skin archetypes:
A person is born with their skin archetype which makes it simple to select skincare basics. Other skin concerns are classified as skin conditions, which will change throughout your life depending on your climate, age, activity levels, and other factors. There are special treatments to address these conditions.
Skincare is really personal and always comes down to the individual. If you're reacting badly to commercial skincare you may want to look into natural skin care for men.
Don't be afraid to experiment with different things. After all, finding the perfect version of anything takes a little trial and error.
Check out the following skin care routine steps we put together.
Facial cleanser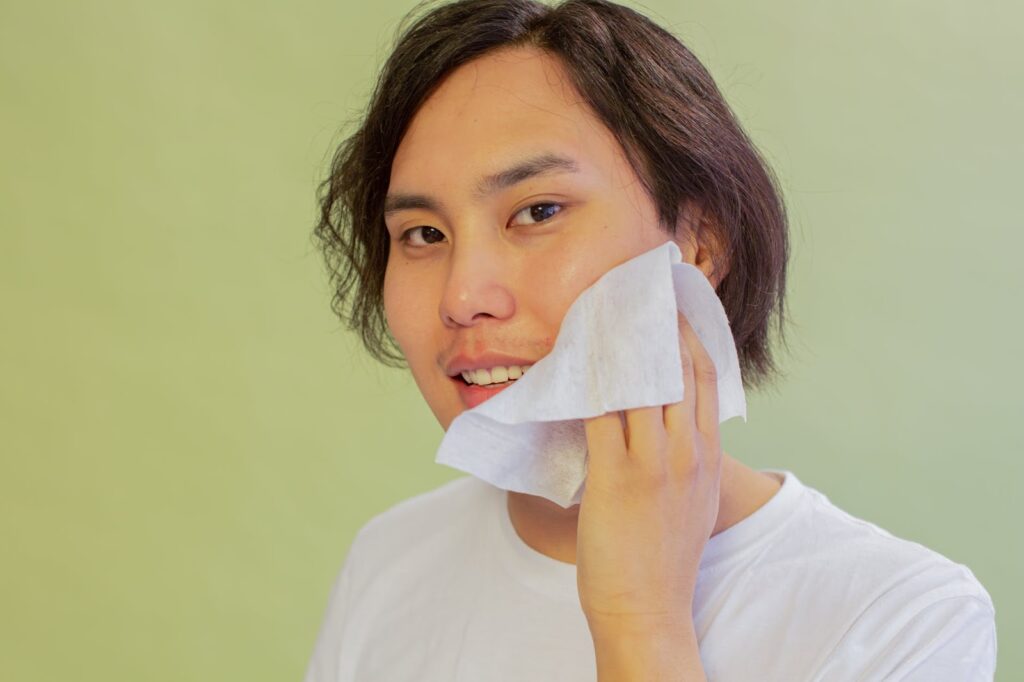 Drop the bar soap!
If washing your face leaves it feeling tight, you may be over cleansing.
Over cleansing wreaks havoc on your skin, disrupting your natural moisture barrier which can take time to rebuild. Soap has a higher pH than your skin's natural acidity; it can cause skin to feel tight and dry. This can lead to black heads, flakiness, or a ruby red toned complexion.
TIP: For tight skin, skip the cleanser and instead use a light weight moisturizer or a toner first thing in the morning. Even water can over dry your damaged skin and contribute to further imbalances.
Although major drugstore brands are tempting to choose as an easy option, they're not all going to be great for your skin. This is why it's important to have a general knowledge of ingredients.
Skip cleansers with exfoliating beads, harsh sulfates, or fragrance. What they claim to be is different in reality: for sensitive or dry skin they can be too harsh and cause irritation, rashes or breakouts.
If you're looking for the best skin care routine for men with oily skin, start with changing your moisturizer instead. It may seem counterintuitive, but applying a heavier moisturizer will help balance oil production, making it so your pores don't need to produce so much sebum in order to keep up.
Eye cream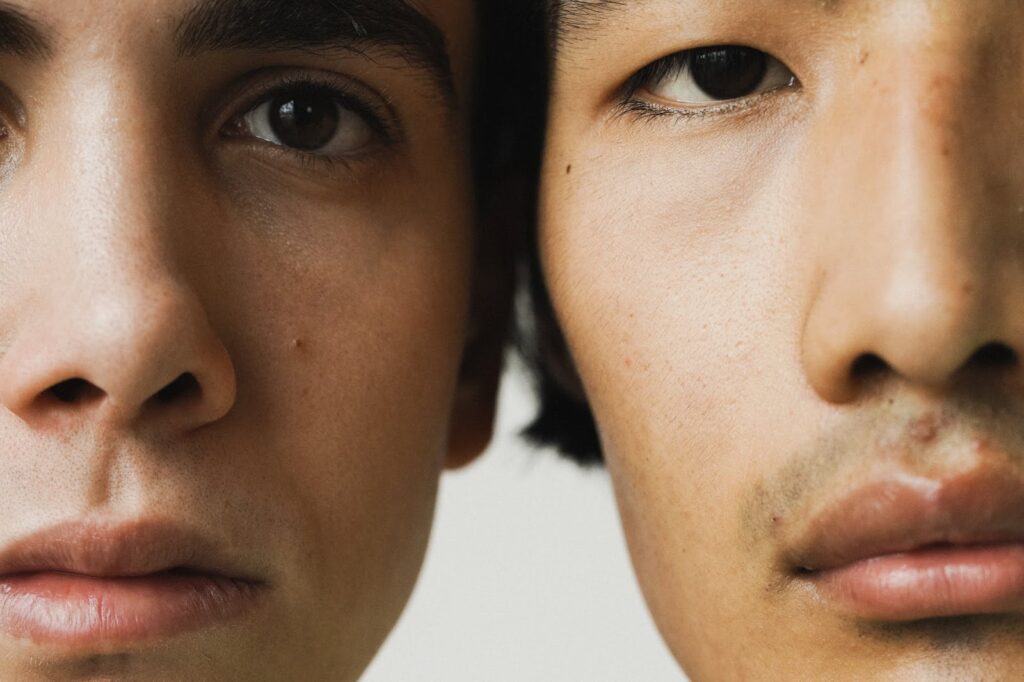 The skin in the eye area is thinner, meaning moisture evaporates faster, wrinkles set in earlier, and dehydration or puffiness are more apparent.
Eye creams seem to always come in tiny jars, because only a small amount is needed. However don't be mistaken: good things come in small packages. Eye creams are formulated with gentle ingredients for around the sensitive eye area, plus contain smaller molecules so that ingredients work more efficiently on thin, sensitive skin.
If you're looking for a simple habit to start today that will keep you looking young in the years to come, this is it.
The best men's skin care routine 2022 includes an eye cream as a first step.
Serum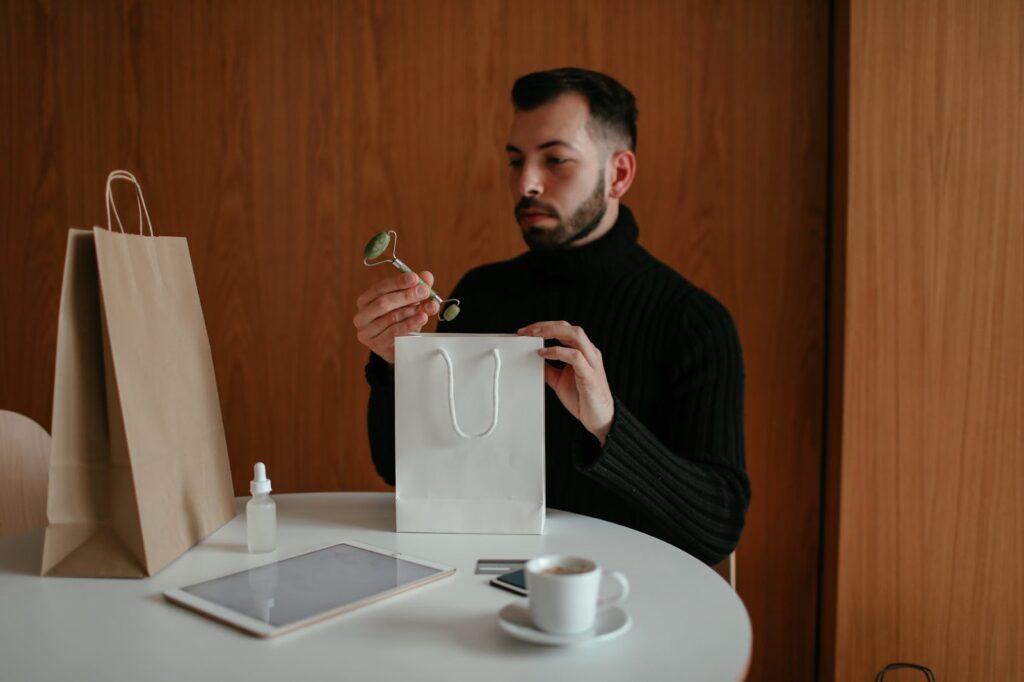 For any skin concern, there's a serum to counteract it.The idea behind serums is they contain active ingredients in a higher concentration.
Serums are part of any dermatologist recommended men's skin care routine. Reach for one to help treat wrinkles, acne, sunspots, excessive irritation or dryness.
Due to their consistency, they're meant to be applied after cleanser and before moisturizer.
Moisturizer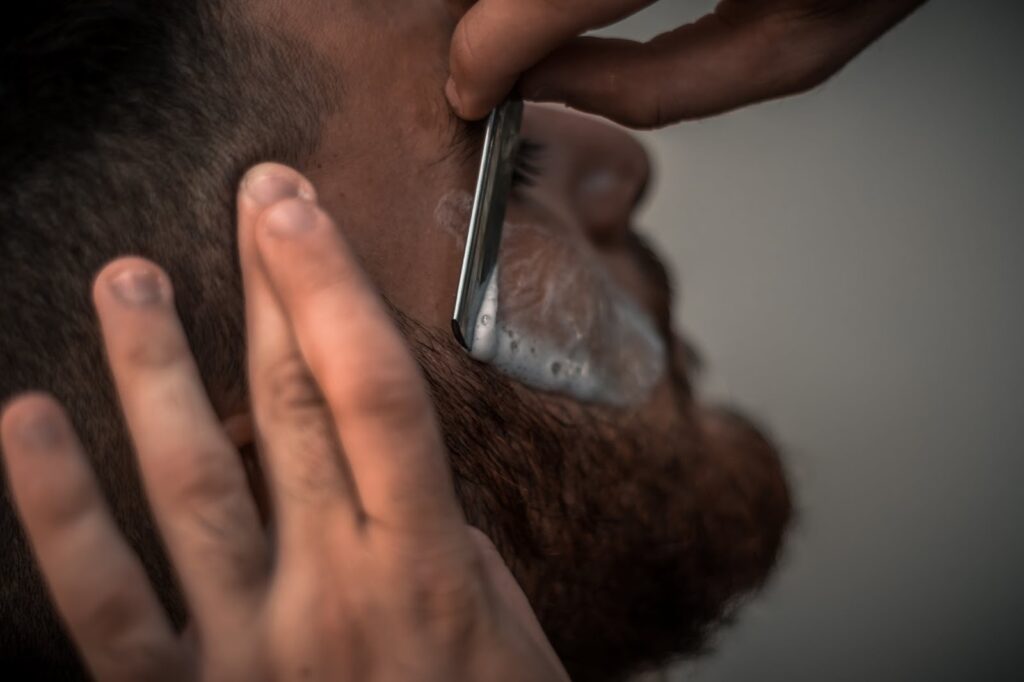 Naturally, many men have oilier skin, which happens to mean they age more gracefully than those with dry skin.
Even among those with a normal skin type, many men skip moisturizing altogether because they want to avoid greasy, gross feeling lotions.
However, all should know this: moisturizers come in all sorts of types – try a lightweight gel moisturizer instead, it sinks into your skin effortlessly and you won't even know it's there.
If your skin is still dry, you can build up with thin layers instead of going in with a handful of goop.
SPF
There may be controversy surrounding wearing sunscreen, but there are lots of scientific studies proving its usefulness, and wouldn't you rather be safe than sorry?
The American Academy of Dermatology Association recommends a sunscreen of SPF 30 or higher.
Wear it every day to protect from harmful UV rays. It's a worthwhile habit everyone should start; It won't give you any immediate gratification but will protect you from skin cancer.
To make matters easier, you can even combine the above steps by selecting a sunscreen with moisturizing ingredients.
While shopping you can be sure the best men's skin care kit will always contain a strong sunscreen.
Chemical Exfoliation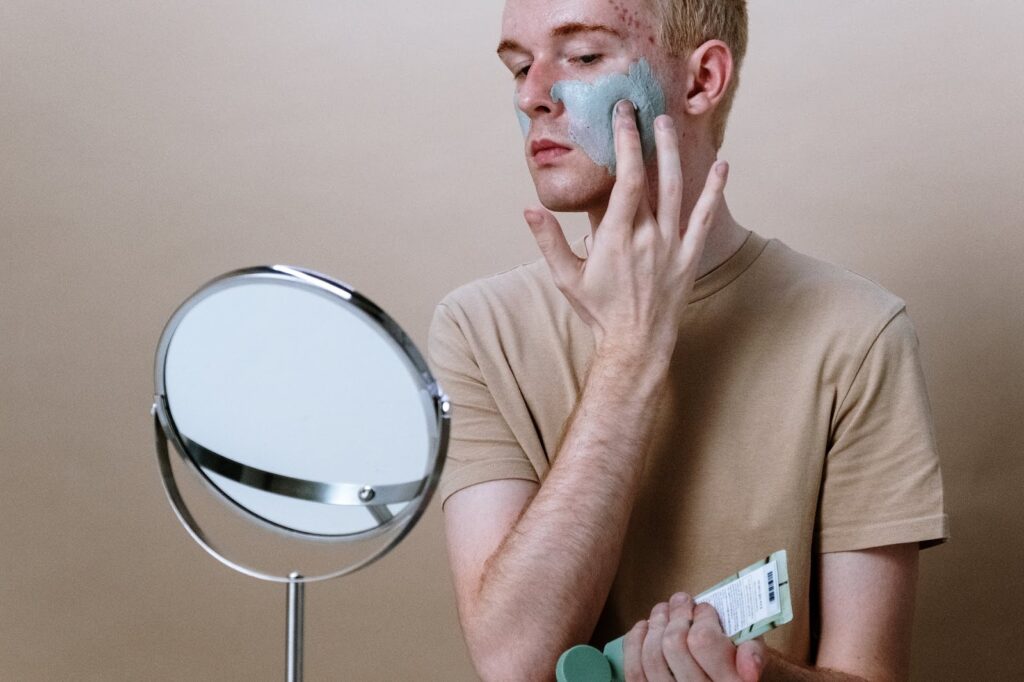 Alpha Hydroxy Acid and Beta Hydroxy Acid chemical peels alike basically work by weakening the bond of dead skin cells, shedding them to reveal the fresher skin underneath. The best skin care routine for men always pays attention to proper exfoliation.
This can be a daily, weak version or a deep exfoliant depending on your needs.
Removing surface debris helps all of your other products work more efficiently
Acids penetrate into pores and loosen up clogs that may otherwise turn into pimples
Acids fade hyperpigmentation spots caused by previous breakouts
Please keep in mind:
Acids make the skin more sensitive to burns, be sure to wear sunscreen
Use once a week in the evening
Be aware of the product's time limit and avoid leaving chemical exfoliators on for too long
Mask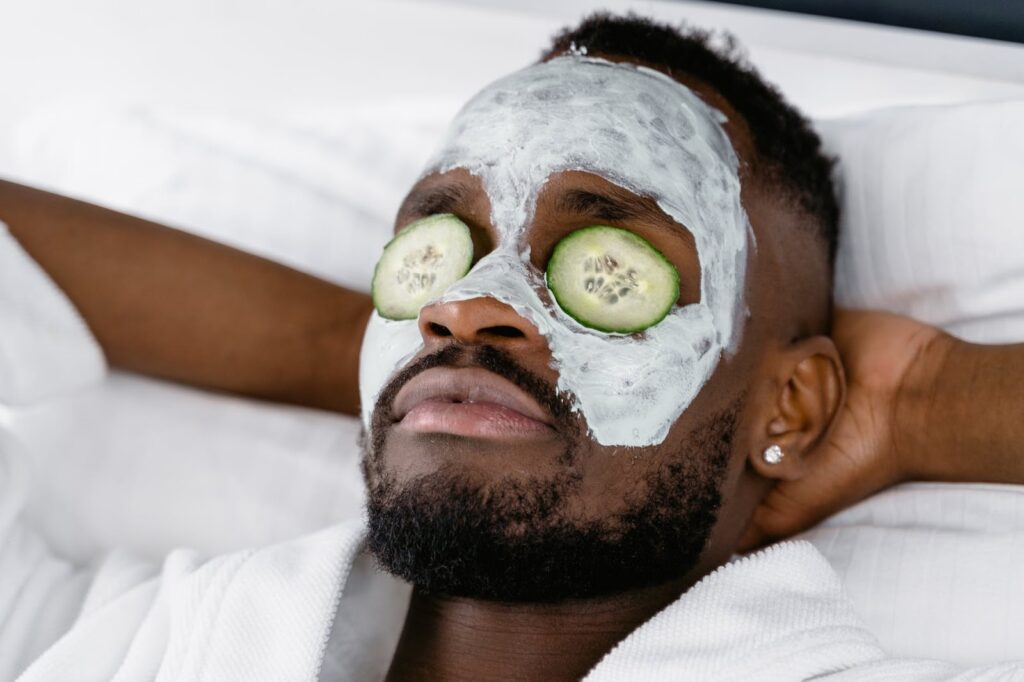 Hydrating masks and sheet masks are a fun self care option. There's a million options, be sure to choose one with hydrating ingredients like hyaluronic acid (a natural humectant that helps your skin retain moisture) and try to avoid masks containing fragrance.
You may have heard of the popular aztec clay masks, but again, not everything popular is right for you. Be careful of over drying your skin, the best skin care routine for men will be the one healthiest for you. If you're going to do a clay mask, skip the harsh apple cider vinegar and don't let it dry completely.
Alternatively, clay masks work great as a spot treatment option.
For more acne spot treatment recommendations, check out this post by Esquire.
Retinol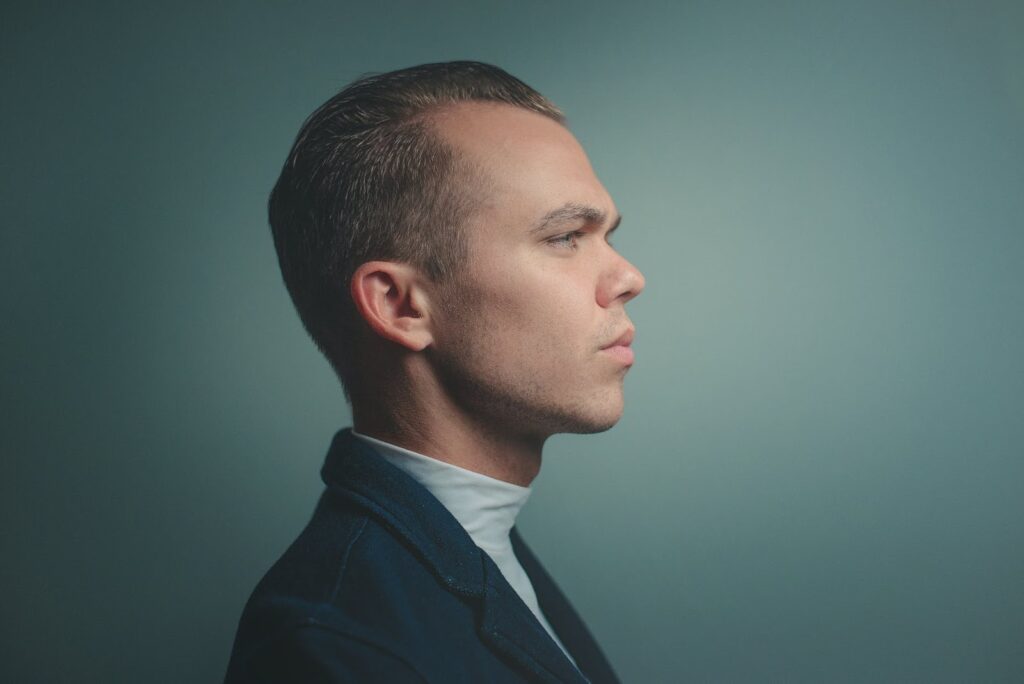 Retinol is a multi-functional powerhouse of an ingredient, a form of Vitamin A that increases cell turnover.
There are numerous studies advocating for retinol's efficacy. Because of this, it amassed a cult following.
In its weaker forms, it can be applied in a serum as an anti-aging measure. In its strongest form, it's available as an over-the-counter acne treatment.
Using a small amount intermittently, it builds up over time and takes consistency to see results.
Similar to AHAs and BHAs, retinol makes skin sensitive to sunlight so sunscreen is a must
Don't use chemical peels, chemical exfoliants or peels while using retinol. They produce similar results and one of the options is plenty for your skin to handle.
Conclusion
Where do I start?
You can start by making sure you stay hydrated and always get a good night's rest. You'll feel and look more vibrant.
You only get one body to experience the world through – don't take this advice lightly!
The best skin care routine for men can be as basic as a simple cleanse, moisturize, and sunscreen or it can be as complicated as you like it. 10-Step routines can prevent some men from dipping a toe in.
You don't have to wait until your 30s to start taking care of yourself.
Visit an esthetician like us at Lemon Honey Day Spa and skip the guesswork. We'll help you determine your needs and point you in the correct direction, offering treatments such as hydrafacials, chemical peels, and microdermabrasion in the Villa Park and Newport Beach areas.