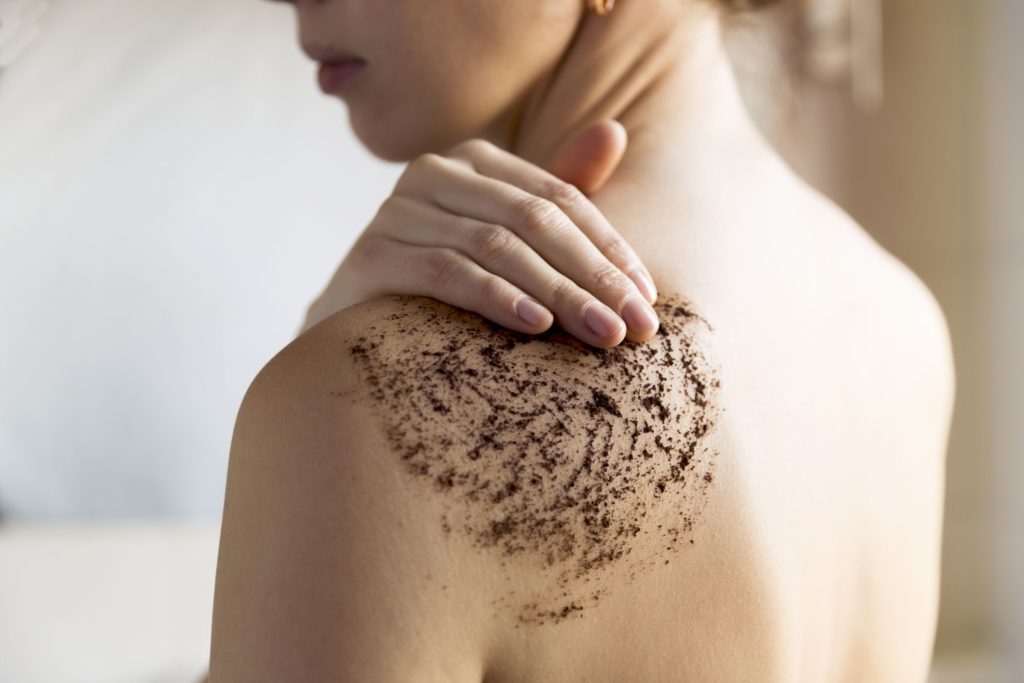 If there's one thing we have plenty of right now is time. Use this time for a little extra TLC for your skin, body, and hair. Working from home? Let your hair soak in something nutritious while you work! Whatever you're doing, if you're stuck at home, these quick and easy DIYs are here to show you some self-love. The best part is you probably already have everything you need to make most of these DIYs already in your kitchen cupboard.
1. Coffee Body Scrub
Coffee is an amazing ingredient and can work for a multitude of skin issues. Not only does caffeine in coffee help boost blood circulation, but it's also anti-inflammatory. This scrub uses coffee and sugar to gently buff away dead skin while the coconut oil and rose oil hydrate and soften the skin.
Ingredients
1 cup of coffee grounds
1 cup of coconut/ olive/ grapeseed oil
1 cup of brown sugar (white, granulated sugar also works)
4 drops of rose oil or your fave essential oil (optional)
Directions: Combine all the ingredients in a bowl and stir well. As this scrub is pretty messy, apply it to damp skin in the shower using circular movements, then wash it off with warm water. Once you've showered, gently pat your skin dry and moisturize within five minutes to lock in moisture for soft, hydrated skin.
2. Avocado Hair Mask
Avocados are super nourishing and hydrating for your hair, as they're full of fatty acids, and protecting vitamin E and B. This mask is super simple to make and you can totally customize it depending on what you have at home.
Ingredients:
1 avocado
2 tablespoons of coconut/ argan/ olive oil (or whatever oil you have)
Directions: Mix all the ingredients in a blender to get a smooth consistency that feels like a conditioner. (If you don't have a blender, mash up the avocado with a fork and whip in the other ingredients for a lightweight texture.) Apply the mask all over dry hair, focusing on your ends and also applying to your scalp. Leave the mask on for one hour and then wash your hair with shampoo and conditioner.
3. Bath Soak Salts
There's nothing better than a relaxing bath and some wine, and bath salts have a lot of benefits to step up your bath game. Sea salt is detoxifying and has healing properties that can help your skin to retain moisture while it's also soothing for your muscles.
Ingredients:
3 tablespoons of coarse sea salt
2 teaspoons of olive/ coconut oil
8 drops of your fav essential oil
Directions: Combine all the ingredients in a bowl and leave to sit for 30 minutes or while your bath runs. Add the mix into your bath and soak away for 20 to 30 minutes (or more) as your body and mind chill, detox, and relax.
4. Nourishing Bath Oil
If you're in serious need of some indulgent chill time, then nothing gets better than this seriously luxe bath oil that you can make with pretty much anything. The oils help to hydrate, nourish, and moisturize your skin, and they all contain fatty acids and vitamins that your skin will love. The addition of essential oils will add fragrance to calm your senses and relax your soul – just what we need right now!
Ingredients:
2 tablespoons of olive/ coconut/ grapeseed/ jojoba oil (whatever you have)
6 drops of your fav essential oil, like lavender or rose (optional)
Directions: Either pour the ingredient directly into a freshly run hot bath, or make extra and store it in a glass bottle or jar so you have bath oil on tap for the coming weeks. Soak for at least 20 minutes, and then gently pat yourself dry when you get out of the bath.