Spraytans are a great way to give your skin a beautiful and natural looking glow.
Getting the perfect spraytan, however, requires some preparation beforehand.
Knowing what to do before a spraytan is essential for ensuring you get the best results possible.
This article will provide you with an overview of necessary steps to take before getting a spraytan in order to achieve the best results.
Preparing for a Spraytan
Preparing for a spraytan can be extremely daunting for those who have never had one done before.
Before getting a spraytan, it is important to properly prepare both yourself and your skin.
Aside from obviously staying hydrated, here are some tips on what to do before a spraytan.
First and foremost, it is important to exfoliate the day before your appointment – this will help remove any dead skin cells that may prevent your skin from absorbing the spraytan solution evenly.
Make sure to also shave with a razor or wax at least 24 hours prior, as this will help create an even surface area for the solution to be applied onto.
Additionally, avoid applying lotion or oil on the day of your appointment as this could act as a barrier between the solution and your skin.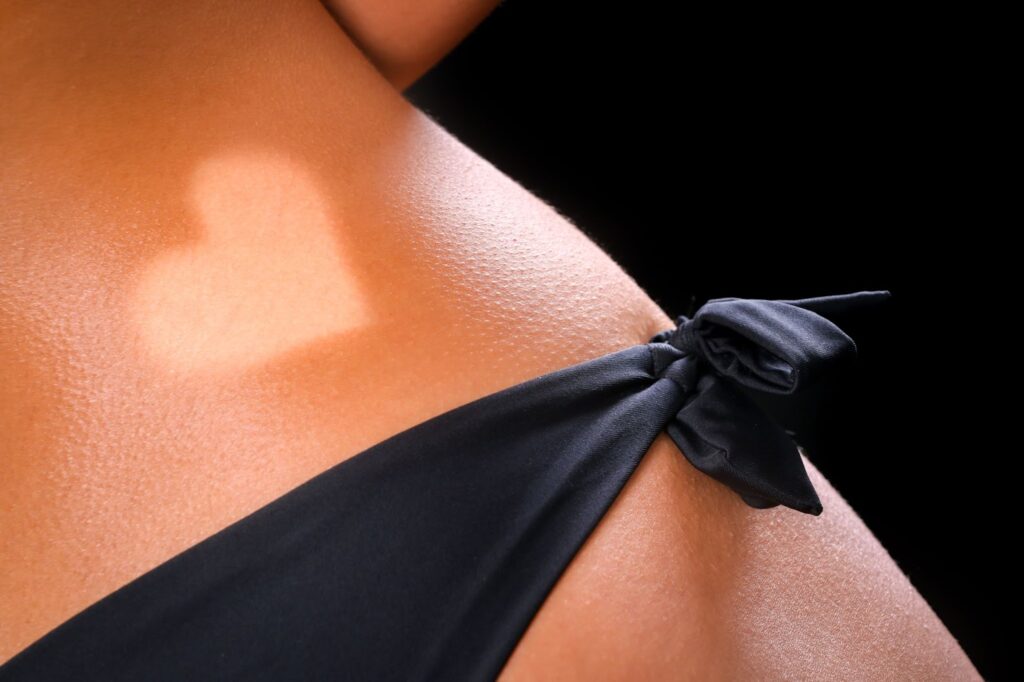 Cleanse and Exfoliate Skin
Before getting a spraytan, it's important to cleanse and exfoliate your skin.
This helps remove dirt, oil, and dead skin cells that can cause the spraytan to appear uneven or blotchy.
Through properly cleansing and exfoliating, you can ensure an even application of the spraytan that lasts longer.
To begin prepping for your spraytan, start with a deep cleanse using a gentle cleanser like Cetaphil or Dove Sensitive Skin Cleanser.
Washing with lukewarm water will help open up pores and allow for impurities to be removed more efficiently.
After cleansing, use a scrub designed specifically for exfoliating body skin like Dermalogica Body Scrub or St. Ives Apricot Scrub to buff away any remaining dead skin cells from the surface of your skin.
Shave or Wax
As mentioned, if you're planning on getting a spraytan, it's important to prepare your skin before the appointment.
When it comes to what to do before a spraytan, one of the first things is to either shave or wax.
Shaving is a quick and easy option that can be done at home with an electric razor but is ideally done with a razor blade.
It removes unwanted hair and exfoliates the skin, which helps your tan last longer.
Waxing is another option for removing unwanted body hair prior to a spraytan session.
It can be done at home or in a salon by a professional esthetician, depending on the area of waxing being treated and your preference.
Waxing lasts longer than shaving, but it also may cause irritation or redness of the skin due to its harsh nature.
Both options are great ways to ensure optimal results when getting a spraytan!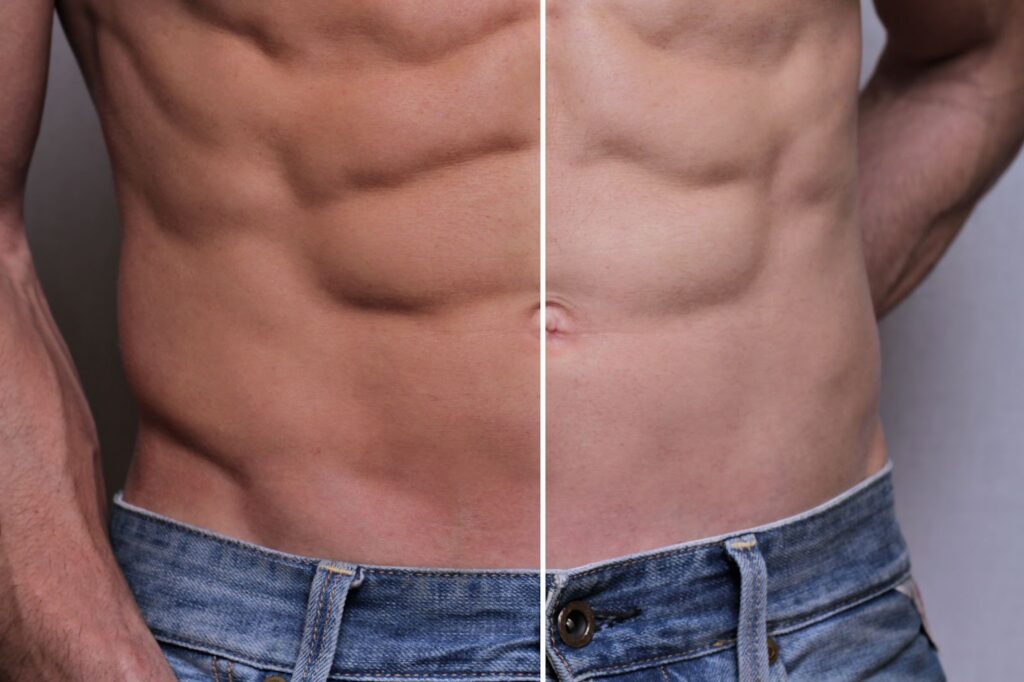 Remove Makeup and Deodorant
For individuals wondering what to do before a spraytan, it is essential to properly cleanse the skin before the appointment.
Makeup and deodorant should be removed in order to ensure that the most even and long-lasting tan is achieved.
To make sure skin is free from any products, one should first use a facial cleanser or makeup remover to rid the face of any foundation or powder.
It may also help to use an exfoliator scrub on the face which will help remove dead skin cells for an even application of bronzer.
Next, when it comes to underarm area, it's important that all traces of antiperspirant are gone prior to getting a spraytan– this will prevent any patches from appearing as deodorants can act as a barrier between your skin and the product used in tanning salons.
Wear Dark, Loose Clothing
Spraytans are a great way to achieve a natural-looking, sun-kissed glow.
But before you book an appointment, make sure you've got the appropriate clothing for the process.
A very important thing to do is wear dark, loose fitting clothing to your spray tanning appointment.
Darker colors won't show any potential staining from the spraytan solution and loose clothing will prevent your skin from being rubbed or irritated by tight clothes.
Also on the list of what to do before a spraytan is avoiding lotions or other skincare products that could block the absorption of the spraytan solution.
Furthermore, it is recommended that you arrive wearing no makeup and no deodorant as both can create barriers on the skin, not allowing for an even coverage of the product.
We know we have mentioned these things already but you would be surprised how many people show up to their appointments with products already applied to their skin.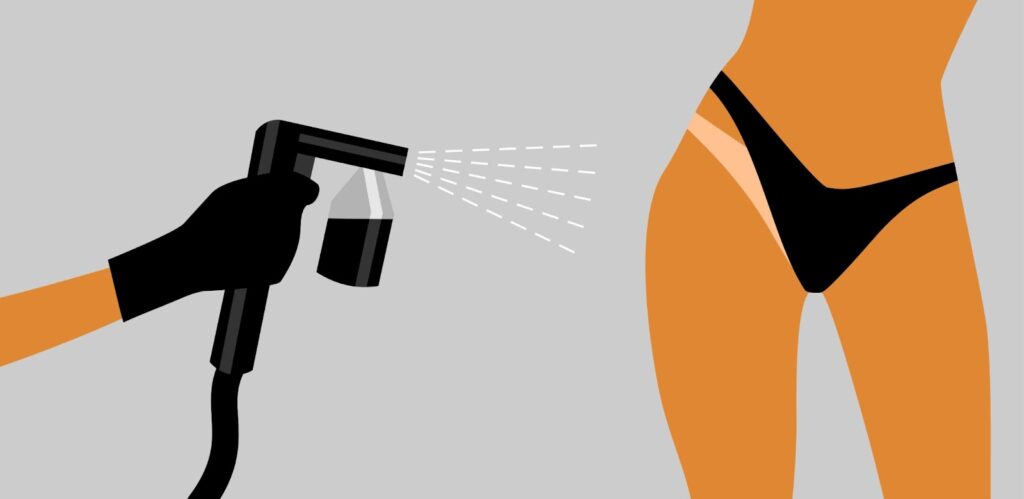 Avoid Moisturizers and Oils
A spraytan can be a great way to achieve a glowing tan without the damaging effects of UV rays.
However, before you head in for your spraytan appointment, it's important to know what to do before a spraytan to ensure a successful and even application (emphasis on "even").
One of the most important things you can do is avoid using moisturizers or oils on your skin (at least until after your appointment).
Using moisturizers or oils prior to spraying will affect the way the tanning solution is absorbed into your skin, leading to an uneven and patchy look.
The oily residue left on the skin will also act as a barrier between your skin and the product which could cause it not adhere properly and result in blotchiness.
To ensure that you receive an even glow all over, make sure that you exfoliate before heading in for your appointment and don't use any products with oil or moisture-locking ingredients in them.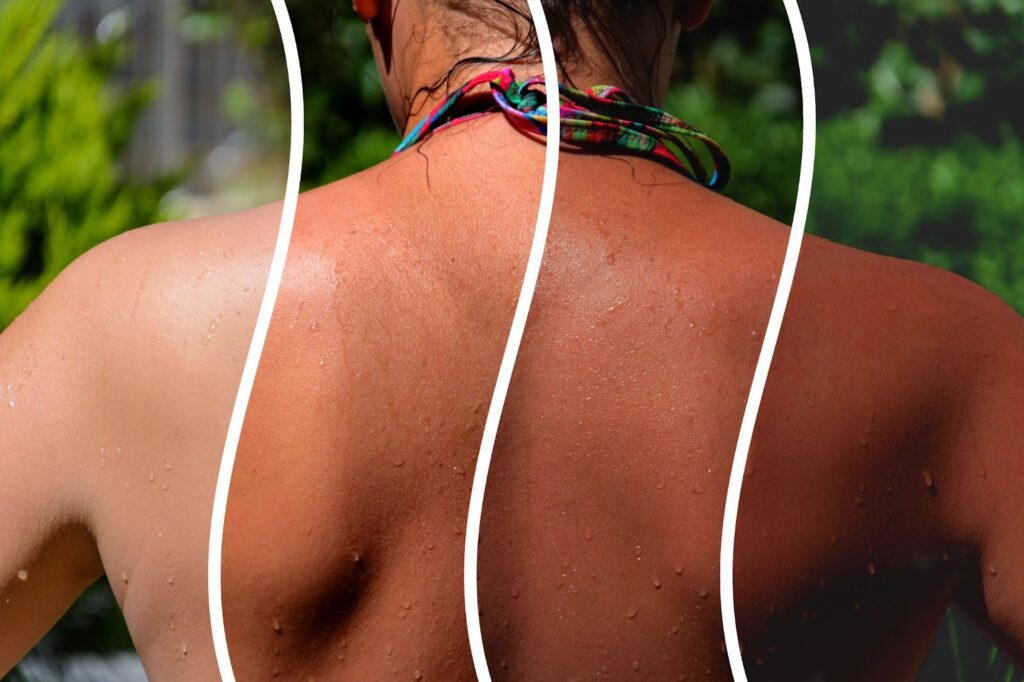 Ready to Glow!
Getting a spraytan can be a great way to give your skin an even, healthy glow.
Preparing your skin beforehand is the key to making sure you get the most out of your tan.
Make sure to exfoliate and moisturize your skin, shave and wax areas that may have hair, avoid lotion on the day of your appointment and wear loose fitting clothing.
Doing these steps will not only help you achieve better results but also help you keep your tan looking great for longer.
We know that we repeated some things throughout this article but, like we said, people do still come in for their appointments with unshaved skin that has products applied to it.
We want you to get a clean and even spraytan and we know that's what you want too if you're reading this.
In the interest of doing that, there are just a few basic things to do before your appointment and if you repeat them enough times in your head, you'll be more likely to remember to do them all.
We hope this article helped you and we look forward to seeing you in the spa! 🙂