The key to finding the right cleanser is to Know Your Skin. There are five basic skin types:
Normal: This skin type has a proper balance of moisture and oil.Sensitive: People with sensitive skin often experience tingling, itching and might get blotches/red flushing when they come in contact with certain facial care products.Oily: Large pores and If your face looks shiny, greasy or slick an hour or two after you wash your face, chances are you have oily skin.Dry: Do you notice flaking or does your face feels tight or stiff chances are you have dry skin. Dry skin is also more prone to early wrinkling and creasing. Makeup will not go on as smooth also.Combination: As the name of this category suggests, combo skin is a mix of oil in some parts and dry in others.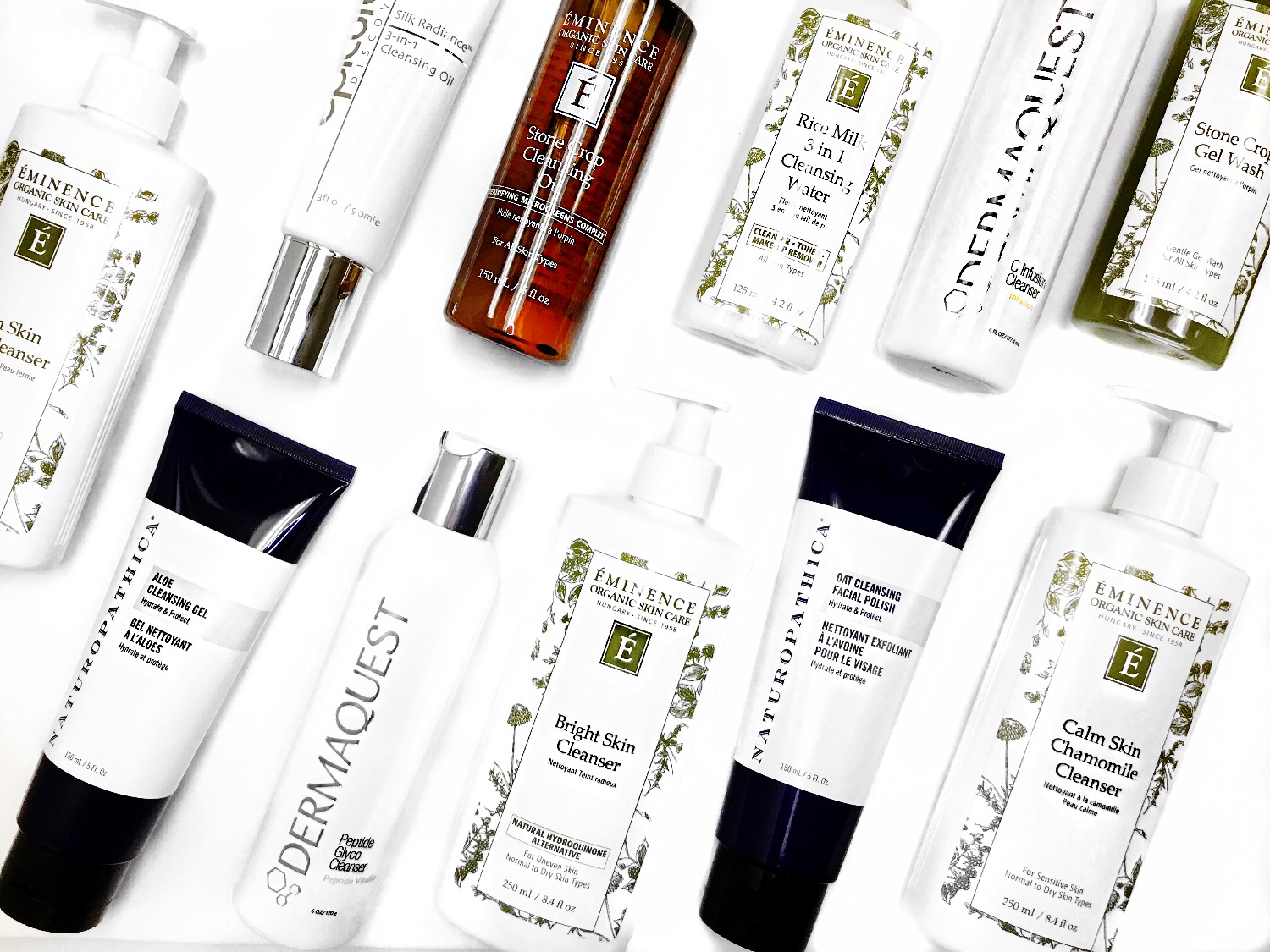 Naturopathica- Aloe Cleanser
A foaming, sulfate-free gel that clarifies, cleanses and protects with refreshing Lavender and over 50% Aloe Vera. Perfect for all skin types.
Aloe Vera: Renowned for its moisturizing and soothing properties and ability to aid healing.
Coconut Oil: Surfactants derived from these natural ingredients are known for their excellent, yet gentle cleansing properties. When used properly it deeply and thoroughly cleanses the skin without drying it out. This cleanser removes even the most stubborn waterproof makeup. (lemonhoneydayspa.com $34)
Naturopathica- Oat Cleansing polish
Gentle enough for daily use, this 3-in-1 cleanser, scrub and mask leaves skin soft, supple and radiant. Soothing Oats and exfoliating Jojoba Beads sweep away dry skin and impurities. This cleanser does not remove makeup so be sure to remove your makeup first. It is the perfect cleanser for travel because it's 3-in-1.
Oat Beta Glucan: Used traditionally to soothe dry skin, hives and inflammation.
Jojoba Beads: These spherical beads provide gentle, yet effective exfoliation.
Oat Protein: This helps soothe, soften and hydrate skin.
great exfoliant for all skin types. (lemonhoneydayspa.com $52)
Eminence- Stone Crop Gel Cleanser
Eminence's Stone crop Gel Cleanser is a non foaming cleanser that deep cleans the skin without leaving it feeling stripped. For those with even the most sensitive skin, our Stone Crop Gel Wash washes away impurities without drying out the skin. The oil-free extracts help even skin tone and minimize the appearance of blemishes to leave a healthy complexion. Cruelty-free and formulated without parabens, sodium lauryl sulfates, synthetic dyes, petrochemicals, animal by-products, phthalates, GMOs and triclosan. Works on all skin types. (lemonhoneydayspa.com, $38)
Eminence- Stone Crop Cleansing Oil
Eminence-Stone Crop Cleansing Oil is an oil-based cleanser that you use with dry hands on dry skin to melt makeup including stubborn waterproof mascara and liquid lipsticks. Gently remove impurities and restore the look of balance with this non-greasy cleansing oil. Infused with moisturizing sunflower and jojoba oils, brightening stone crop and supercharged micro greens, this light and luxurious formula deeply cleanses to deliver dewier, softer looking skin after every use. After massaging into your skin, rinse with water and move onto a gel or water-based cleanser aka double cleansing. And yes, you can use a cleansing oil on your skin even if you have oily skin. This one contains Stone Crop: Hydrating and moisturizing; brightens and revitalizes the look of the skin; reduces the appearance of redness. Detoxifying Microgreens Complex (Broccoli, Radish and Clover sprouts, and Detoxophane from Swiss cress sprouts): A potent blend of micro greens that protects against the drying effects of environmental stressors and reduces the signs of aging for brighter, younger looking skin and ingredients to remove excess sebum and impurities which cause blemishes and blackheads. Works on all skin types including sensitive skin. (lemonhoneydayspa.com, $52)
Dermaquest- Peptide Glyco Cleanser
Keep signs of aging at bay with our creamy Glycolic Acid based cleanser, boasting the unparalleled power of peptides and Alpha Hydroxy Acids for ultimate exfoliation. Our cleanser leaves your skin silky smooth and richly radiant. This is best used 1-3 times a week depending on your skin type (1-2 for normal/dry skin, 2-3 for oily/combination skin). It's a great idea to leave on the skin as a mask occasionally for 3-5 minutes especially if you wear makeup regularly. (lemonhoneydayspa.com, $33)
Dermaquest- C Infusion Cleanser
C Infusion Cleanser is overflowing with antioxidants restoring a youthful glow to your skin. Our foaming cleanser purifies and preserves while slowing the effects of harmful free radicals. Feel refreshed, energized and primed for home care or professional treatment, without stripping essential moisture from your skin. It contains Vitamin C and Alpha Lipoic Acid to help minimize the appearance of fine lines, wrinkles, and enlarged pores as well as helps to improve skin's resilience, tone, and texture. Ideal for normal, oily or acne skin types. (lemonhoneydayspa.com $35)
Eminence- Clear Skin Probiotic Cleanser
Eminence Clear Skin Probiotic Cleanser is part of eminence system that also is designed to fight adult acne. Cool and balance your skin with our Clear Skin Probiotic Cleanser. This clarifying cream-gel cleanser treats oily and problem skin with cucumber and tea tree oil. Sweet almond milk and yogurt reduce the visible signs of problem skin and breakouts without stripping the skin of moisture. Cruelty-free and formulated without paragons, sodium laurel sulfates, synthetic dyes, petrochemicals, phthalates, GMOs and triclosan. It contains Yogurt: exfoliating; contains lactic acid; moisturizing and nourishing which used in the clear skin system helps to fight acne without over drying maturing skin. Works on Acne skin types. (lemonhoneydayspa.com, $36)
Eminence- Calm Skin Cleanser
This cleanser is perfect for someone who's experiencing tingling, burning and redness from other skin products . Gently remove impurities from your skin with our Calm Skin Chamomile Cleanser. Infused with chamomile, arnica and rosemary, this calming cream cleanser is perfect for sensitive skin that is prone to redness.The soap-free cleanser is effective at removing makeup, dirt and oil without making skin feel tight or dry. It can be rinsed off with water or tissued off with a cloth (if skin needs a little extra moisture).This cleanser is non-irritating and a great balance to the routine if you use serums and creams that have active ingredients. Works on all skin types but it's great for sensitive skin. (lemonhoneydayspa.com, $36)
Dermaquest- Dermaclear Cleanser
Packed with skin-clarifying enzymes, Specially formulated with Mandelic Acid, this cleanser is ideal for all stages of acne. Proteolytic Enzymes, plant extracts and willow bark calm and soothe irritated skin as Tea Tree Oil assists in calming irritated blemishes for faster healing. DermaClear Cleanser gently exfoliates and refines the skin while inhibiting blackheads.This one really goes the distance to deliver immediate benefits. Works on oily, acne and combination skin. (lemonhoneydayspa.com, $31.50)
Epicuren- Silk Radiance 3-in-1 Cleansing Oil
When skin feels super dehydrated Epicuren's Silk Radiance 3-in-1 Cleansing Oil. Awaken your skin's natural suppleness and dissolve impurities with this silky blend of antioxidant and lipid rich oils. Infused with pure essential oils, this 3-phase luxury experience transitions from rich gel, to aromatic oil, to delicate milky cleanser, captivating your senses, while restoring perfect harmony and moisture.The cream takes on an oily consistency once massaged into skin and melts away makeup like a dream. The luxurious high quality oils exclusively found in this cleansing cream is a decadent over $50 treat) leaves skin smooth, soft and incredibly calm. Even the most irritated skin can benefit from this soothing cleansing oil. Works on dry, normal and combination skin types. (lemonhoneydayspa.com, $65.00)
Eminence- Bright Skin Cleanser
Eminence Bright Skin Cleanser is an creamy rich formula that works great on dry skin (though formulated for all skin types.) Brighten the appearance of skin and reduce the signs of aging with the help of our Bright Skin Cleanser. This cleanser uses two actives – Gigawhite and a Natural Hydroquinone Alternative – to give skin the appearance of being brighter and younger looking. This cleanser is preventative and reveals a more even toned skin over time, especially when paired with other products in the Eminence Bright Skin Line. (lemonhoneydayspa.com, $36)
Eminence- Firm Skin Acai Cleanser
Eminence Firm Skin Acai Cleanser has Antioxidant-rich Acai berries which are perfect for revitalizing mature skin. This cream cleanser also blends hyaluronic acid and Seabuckthorn oil to restore the appearance of elasticity to the skin and present a more youthful look. Formulated with Seabuckthorn Berry: vitamin and nutrient-rich; protects skin's moisture barrier and fights the look of wrinkles and BioComplex: a booster of antioxidants, Coenzyme Q10, and Alpha Lipoic Acid to reduce the appearance of wrinkles and improve the appearance of skin. Botanical Hyaluronic Acid (from marshmallow plant extract): deeply hydrating; natural substance that smooths and plumps skin to minimize the appearance of fine lines and wrinkles, so, skin looks and feels great after cleansing. Works on normal and dry skin types. (lemonhoneydayspa.com, $36.00)
Dermaquest- Skinbrite Facial Cleanser
When brightening is a concern, reach for Dermaquest skinbrite facial Cleanser. Our deluxe brightening cleanser hampers pigmentation concerns while delivering valuable nutrients to the skin. Shiitake Mushroom, Green Tea Extract, Panthenol and Vitamins C and E help to soothe, protect, and uniform uneven skin tone. The foaming cleanser removes impurities without stripping all moisture. shitake mushroom and vitamin C work to even the skin tone, vitamin E and Green Tea extract keeps everything calm. Brighter days ahead! Works on all skin types. (lemonhoneydayspa.com, $33)
What's your favorite cleanser?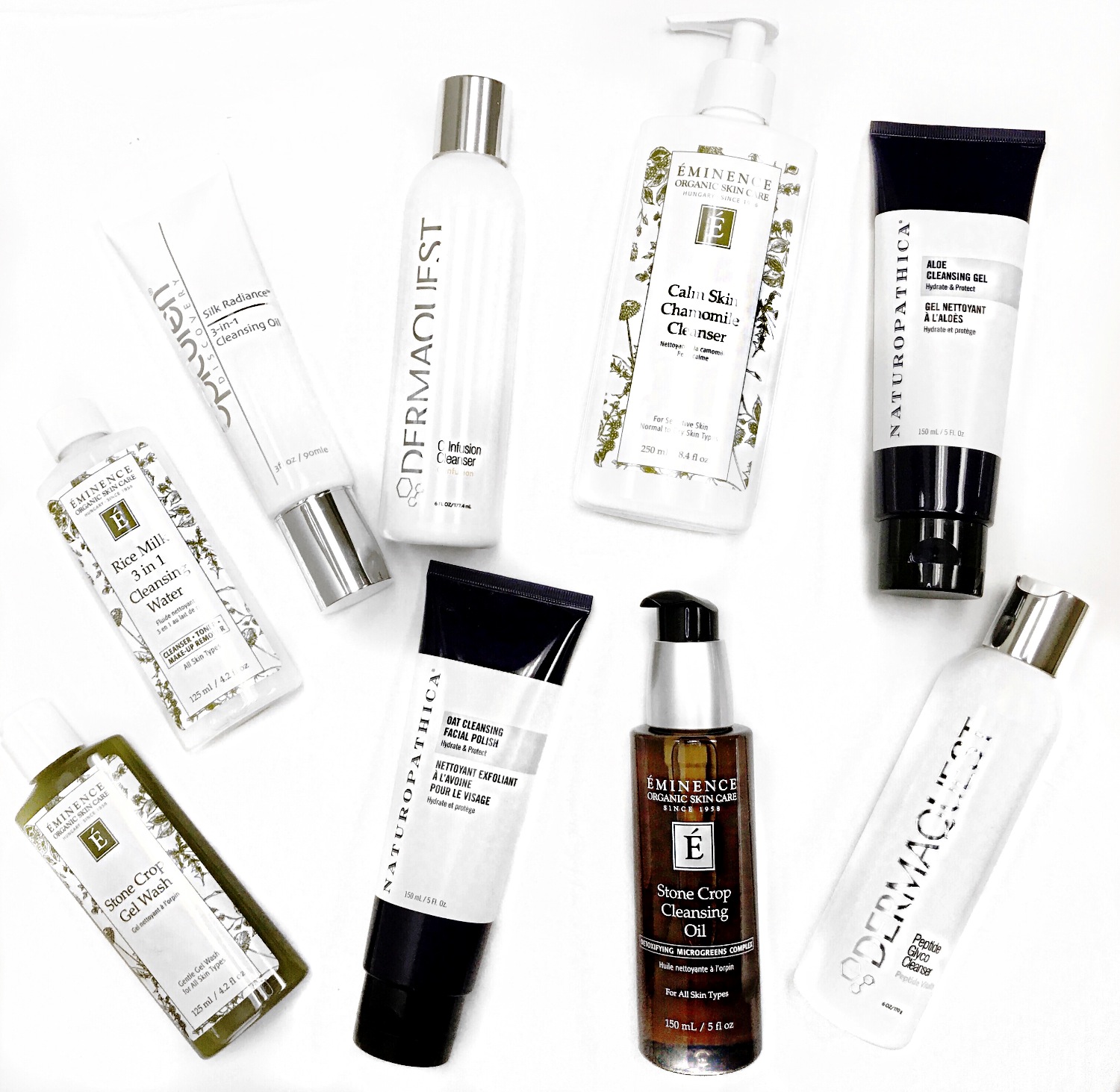 å