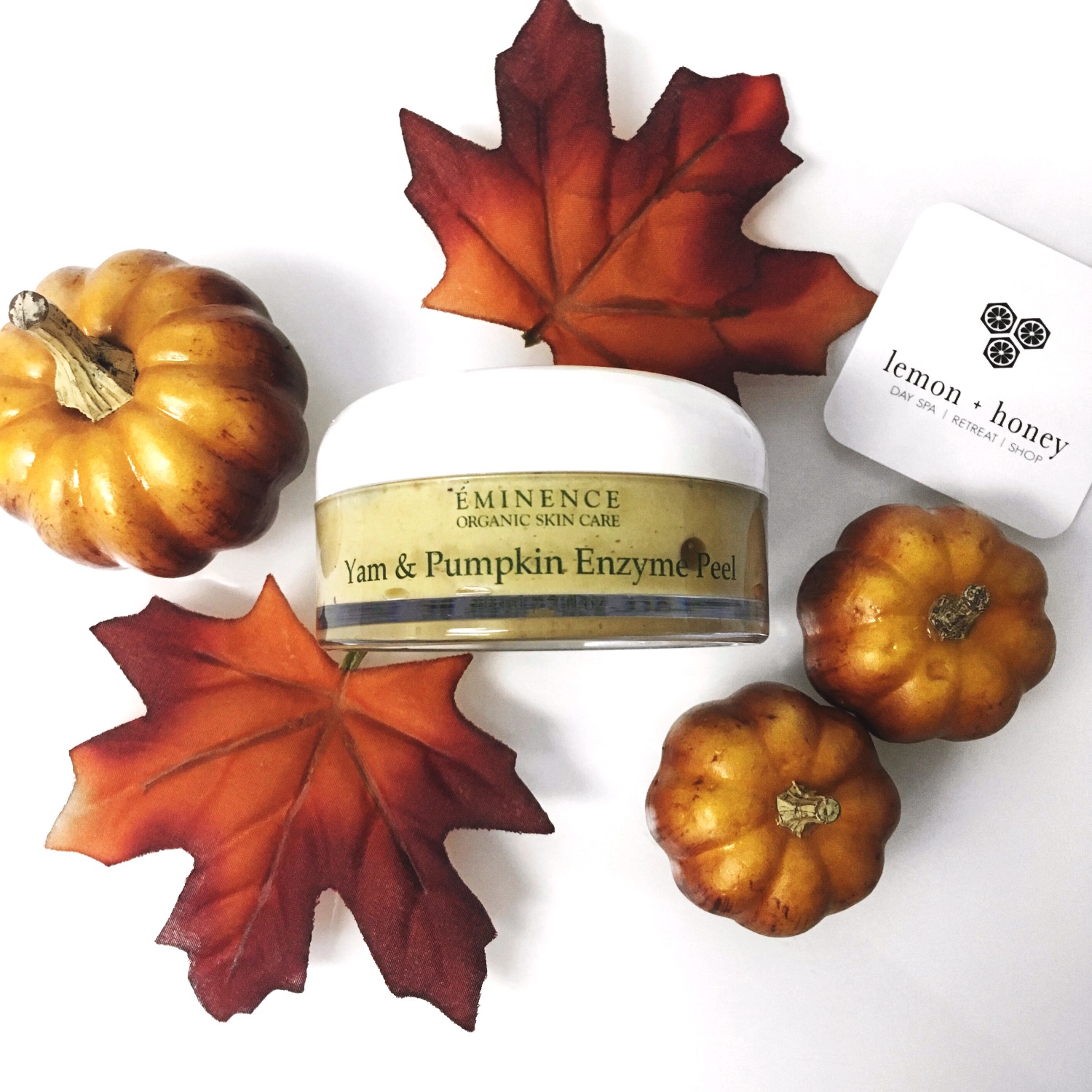 At this time of year pumpkins are everywhere. Despite their yummy goodness, pumpkins are not just for eating – did you know that pumpkins are also great for your skin? Pumpkins are rich in vitamins and when applied as a skin care product they offer a soothing and softening effect, and on top of leaving your skin with a velvet touch they also contain oxidizing qualities that can help repair damaged skin.
Accelerate the exfoliation process with this enzyme peel that removes dead skin cells, reduces the appearance of pigmentation, fine lines and sun damage. This delicious purée of yam and pumpkin leaves skin looking firm and radiant.
Key Ingredients:
Yam Pulp Purée: high in beta-carotene and vitamins to fight the appearance of agingPumpkin Pulp Purée: rich in enzymes, beta-carotene, amino acids, and antioxidants to fight the appearance of agingPineapple: purifies skin by removing dirt and proteinsPapaya: contains vitamins and fruit enzymes to improve the appearance of skinGlycolic Acid: soothing and smoothing agentLactic Acid: sloughs off dead skin cells to improve texture of skinWillow bark Extract: natural beta-hydroxy to minimize the appearance of poresPhyto-Hyaluronic Acid (Phytocollagen): deeply hydrating; natural substance that smoothes and plumps skin to minimize the appearance of fine lines and wrinklesGreen Tea Extract: high in antioxidants, polyphenols, flavonoids, and vitamins for youthful looking skin
Why is Pumpkin Good for your Skin?
Vitamin C: Pumpkin is a good source of vitamin C, which helps protect skin from free radical damage, such as wrinkles and even skin cancer. … Carotenoids: Alpha-carotene, beta-carotene and other carotenoids are the protective antioxidants that are also responsible for giving pumpkins their bright orange hue.
Pumpkin is packed with fruit enzymes and alpha hydroxy acids (AHAs), which increase cell turnover, to brighten and smooth the skin. Pumpkin contains antioxidant Vitamin A and Vitamin C to help soften and soothe the skin and boost collagen production to prevent the signs of aging. Not only will your skin feel like you are treating it to some heavenly decadence but the enticing smell of pumpkin pie will have you going gaga for this pumpkin peel.
This seasonal Fall Treat won't be here long Check out our options below and book your next appointment to enjoy this special treat:
Pumpkin Peels:
$59 Pumpkin Peel (30-Minute Express treatment)
Includes cleansing, peel, serum and moisturizer.
$99 Organic Pumpkin Peel Facial (55-Minute treatment)
Includes steam, cleansing, extractions, peel, mask, signature l+h facial massage, serum and moisturizer. Deluxe members receive a free eye peel with treatment (included in our Deluxe Facial membership)
$135 Power Pumpkin Resurfacer Peel and Facial (75-Minute treatment)
All Features in Pumpkin peel facial but replacing the regular pumpkin peel with a powerful 40% Pumpkin enzyme, 10% glycolic and 10% Lactic acid peel. Amp up your pumpkin facial with this powerful potent resurfacing treatment. Ultimate members include a free upgrade of LED Light therapy. (included with our Ultimate facial Membership)